As we come together to celebrate National Flag Day, let us take a moment to reflect on the significance of this day and the message it carries. June 14th serves as a reminder of the unity, freedom, and pride that our flag represents. It is a day to honor the rich history of our nation and to recognize the sacrifices made by countless individuals to preserve the values and ideals that our flag embodies.
The American flag has been a symbol of hope, resilience, and unity since its creation in 1777. It has stood as a beacon of freedom and democracy throughout our nation's history, inspiring generations of Americans to strive for a better future. Today, we celebrate the achievements of our great nation and honor the role our flag has played in shaping our collective identity.
National Flag Day is an opportunity for us to reflect on the importance of unity and patriotism in our interactions with one another. We must strive to create a nation where everyone is free to express their beliefs and opinions without fear of discrimination or prejudice. This can only be achieved through open dialogue, education, and a commitment to fostering an inclusive and supportive environment for all.
As we celebrate on June 14th let us remember the many individuals who have bravely fought to defend our nation and the values it represents. Their courage and determination have paved the way for a more just and prosperous society, and we must honor their legacy by continuing to work toward a brighter future for all Americans.
In our quest for a more united nation, it is essential that we recognize and celebrate the diversity that exists within our country. National Flag Day serves as a reminder that our strength lies in our ability to come together as one nation, despite our differences. By embracing this diversity, we can work together to overcome the challenges we face and create a more inclusive and equitable society for all.
Let us also take this opportunity to educate ourselves and others about the history and significance of our flag. By understanding the symbolism and meaning behind the stars and stripes, we can foster a greater sense of pride and appreciation for the ideals our flag represents.
One of the most powerful ways we can show our respect for the American flag is by actively working to uphold the values and ideals it symbolizes. This can be as simple as exercising our right to vote, volunteering in our communities, or standing up against injustice when we witness it. Each of these actions, no matter how small, contributes to a stronger and more united nation.
In addition to individual actions, we must also recognize the importance of collective efforts in promoting unity and patriotism. By coming together as a community, we can amplify our voices and work together to create lasting change. Whether it's participating in civic events, advocating for social justice, or supporting local initiatives, our collective efforts can make a significant impact.
Let us not forget the importance of fostering a sense of national pride and unity in our daily lives. By displaying the American flag, engaging in patriotic activities, and sharing our love for our country with others, we can help to create a more inclusive and united society for all.
National Flag Day is a day to celebrate the unity, freedom, and pride that our flag represents. It is a day for reflection, appreciation, and patriotism, and an opportunity for us to come together to create a more inclusive and equitable society for all Americans.
As we celebrate this day, let us commit ourselves to the ongoing pursuit of unity and patriotism, and work together to create a nation where everyone is free to pursue their dreams without fear of discrimination or prejudice. Together, we can make a difference and create a brighter, more united future for all Americans.

Glen Eden Announces the return of The Sabroso Latin Festival- September 15, 16 & 17, 2023
By Mauricio Pinto

The Sabroso ("flavorful, delightful)" Sabroso Festival returns to Glen Eden Sun Club in Southern California with an array of activities guaranteed to entertain and educate about the heritage, music, and dance of the many countries that make up Latin culture. The theme this year is "Latin Rhythms- Bachata Romántica", referring to a popular genre of dance music that originated in the Dominican Republic and is a fusion of Spanish guitar music, with indigenous and African influences.

Sabroso activities this year include dance lessons and a dance exhibition to prepare for the various bands that will entertain in the course of the weekend. A vendor fair will run concurrently. A presentation and exhibit area has officially been added on Sunday. The Glen Eden Café will offer a mix of Latin-themed and American food throughout the event. And, as always, the highlight of the festival is the flag parade of countries on Saturday.

The Sabroso Festival was created to highlight the different customs, music, and history of the 21 countries that make up Latin America, as well as the "mother" countries of Spain and Portugal. Glen Eden is fortunate to have members with direct or generational ancestry from Brazil, Mexico, Colombia, Venezuela, Costa Rica, Nicaragua, Ecuador, and Puerto Rico. Memorable prior-year highlights have included a tango dance performance, a Latin cocktail mixology presentation, and an indigenous Aztec dance group.

Join us this September for one of the most entertaining recurring events held at Glen Eden.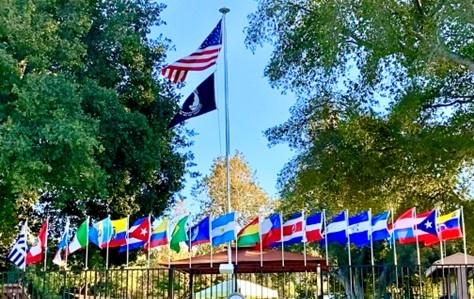 When explaining naturism to others, here are some tips to keep in mind
1. Start with the basics: Begin by explaining what naturism is and how it differs from other clothing-optional activities. Naturism is a lifestyle that involves being naked in social settings, such as beaches, resorts, or clubs, for the purpose of promoting body positivity, self-acceptance, and respect for others.

2. Address common misconceptions: Many people may associate naturism with sexual activity or exhibitionism, so it's important to clarify that naturism is not about sexual gratification or attention-seeking behavior. Instead, it is a way of life that values freedom, equality, and community.

3. Emphasize the benefits: Share the positive aspects of naturism, such as the sense of liberation and connection with nature that can come from shedding clothing. Additionally, emphasize the sense of acceptance and inclusivity that is often found within naturist communities.

4. Be respectful: Keep in mind that not everyone may be comfortable with the idea of naturism, so it's important to be respectful of others' beliefs and boundaries. If someone is not interested in learning more about naturism, don't push the issue or make them feel uncomfortable.

5. Invite them to try it: If someone expresses interest in naturism, invite them to join you at a naturist event or resort. This can be a great way for them to experience naturism firsthand and determine if it's something they would like to pursue further.

6. Provide resources: If someone wants to learn more about naturism or get involved in the community, provide them with resources such as websites, books, or social media groups. This can help them connect with like-minded people and find ways to explore naturism in a safe and supportive environment.

7. Address concerns: Some people may have concerns about the practical aspects of naturism, such as hygiene or sun exposure. It's important to address these concerns and provide information on how to stay safe and comfortable while practicing naturism.

8. Share your own experiences: If you are a naturist yourself, share your own experiences and how naturism has positively impacted your life. This can help others see the value of naturism and understand why you are passionate about it.

9. Be open to questions: Encourage others to ask questions and address any concerns they may have. This can help foster understanding and dispel any misconceptions they may have about naturism.

The key to explaining naturism to others is to be respectful, informative, and open-minded. By sharing information, addressing concerns, and inviting others to explore naturism for themselves, you can help promote a greater understanding and appreciation for this unique way of life.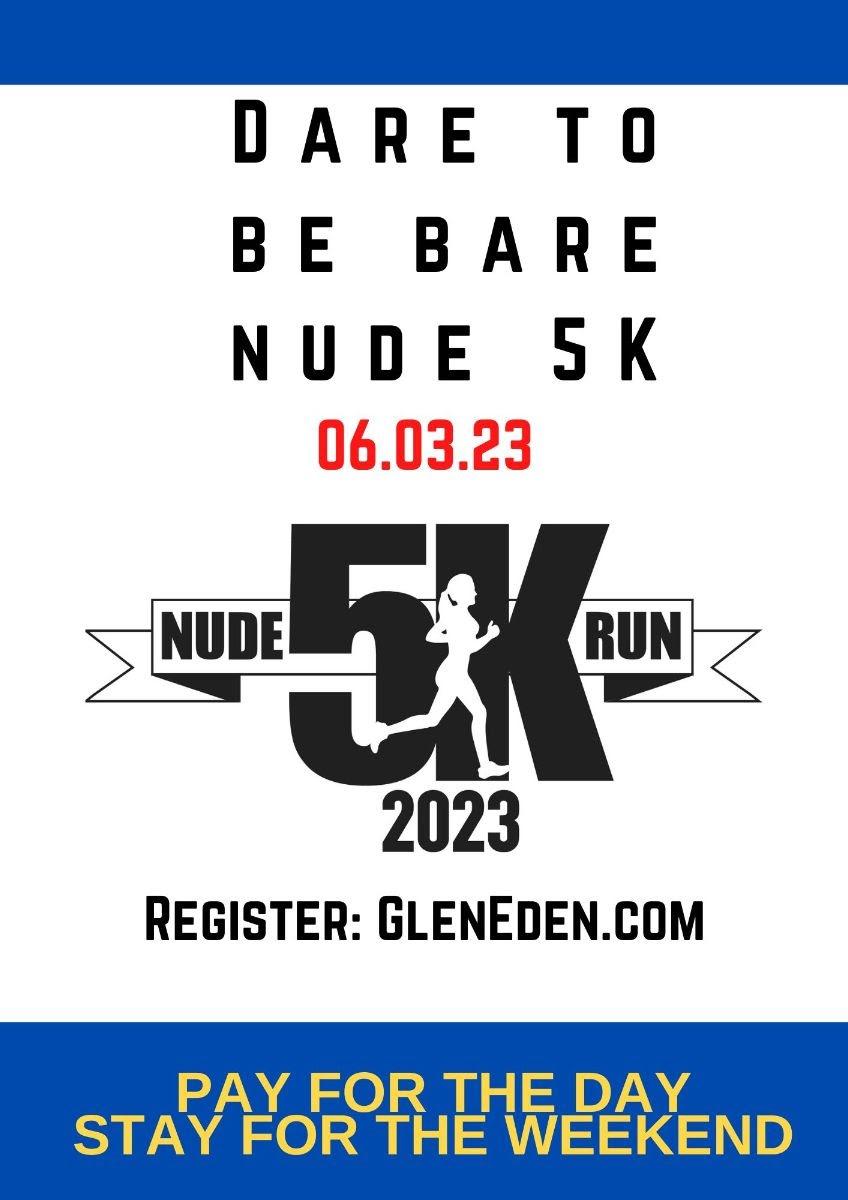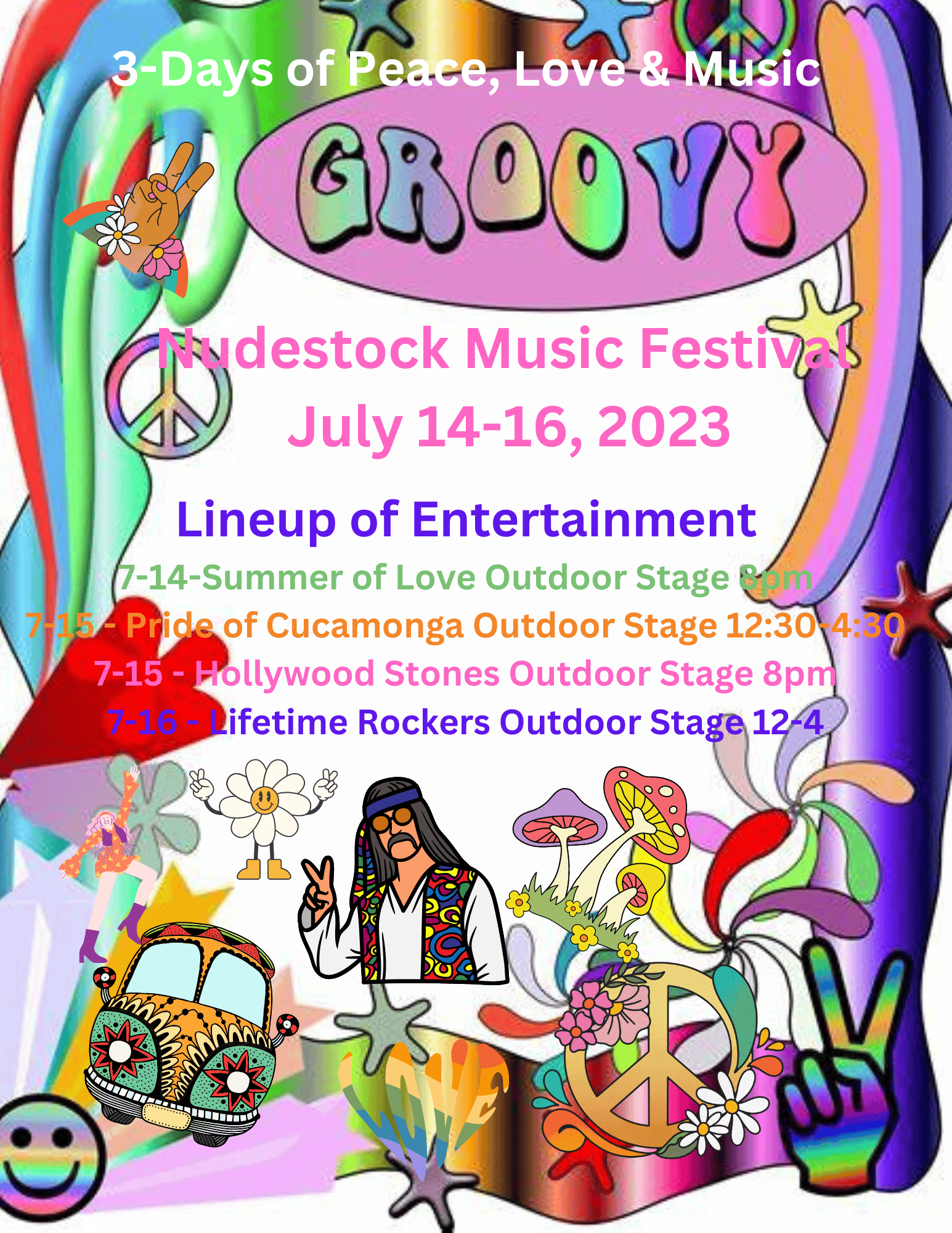 Two nude beaches in the AANR Western Region made CNN's 20 best nude beaches worldwide
20 of the world's best nude beaches: Clothing-optional beaches have gained popularity worldwide, offering a chance to bask in the sun and surf in the nude. From Berlin allowing topless swimming to Nantucket Island embracing gender equality on beaches, the trend is growing. The Free the Nipple campaign has also made a comeback, organizing topless parades in various cities. Whether it's rocky coastlines, fine sands, or secluded shores, there are now numerous legal clothing-optional beaches available. Explore the naturist movement's roots in the Victorian era and discover 20 exceptional nude beaches globally.
Source https://www.cnn.com/travel/article/best-nude-beaches-world/index.html

Mexico's first 'Naked Day' march leaps forward to normalize nudity
Mexico City witnessed its first 'Naked Day' march as hundreds of participants took to the streets to promote nudism and normalize the natural state of the human body. The peaceful march aimed to generate visibility for nudism as a practice, philosophy, and social movement, sparking reflective dialogue on our relationship with our bodies and the benefits of embracing nudity. The movement, which began in Guadalajara in 2022, seeks to inspire other cities and countries to follow suit in promoting nudism. Various organizations joined the march, including Nudist Pride, Nudist Colors, and Somos Nudistas.

Source: https://www.wionews.com/trending/mexicos-first-naked-day-march-leaps-forward-to-normalise-nudity-594750

AANR West Clubs, Parks, & Resorts
Arroyo del Sol Clothing Optional B&B Destination Club Altadena, CA
Buff-A-Teers Travel Club Tucson, AZ
Canyon State Naturists Travel Club Phoenix, AZ
Clothes Free International Online Club Oakhurst, CA
Clothing Optional Home Network Travel Club Phoenix, AZ
DeAnza Springs Resort Destination Club Jacumba Hot Springs, CA
Front Range Naturists Travel Club Boulder, CO
Glen Eden Sun Club Destination Club Corona, CA
Hawaiian Naturist Park Destination Club PĀHOA, HI
Laguna del Sol Destination Club Wilton, CA
Las Vegas Bares Travel Club Las Vegas NV
Las Vegas Naturists Travel Club Las Vegas NV
Le Club Travel Club San Diego, CA
Lupin Lodge Destination Club Los Gatos, Ca
Mohave Sun Club Travel Club Lake Havasu, City AZ
Mira Vista Resort Destination Club Tucson, AZ
Mountain Air Ranch Destination Club Indian Hills, CO
Northern California Exposure Travel Club Sacramento, CA
Olive Dell Ranch Destination Club Colton, CA
Olympian Club Travel Club Riverside, CA
Pacificans Travel Club Corona CA
Roadrunner Naturists Travel Club Albuquerque, NM
Sequoians Destination Club Castro Valley, CA
Shangri La Ranch Destination Club New River, AZ
Southern California Naturist Association Travel Club Calabasas, CA
Southern Utah Naturist Society Travel Club St. George, UT
Sun Tree Travel Club Travel Club Las Cruces, NM
Swim Free Hawaii Boat Charter Destination Club Hawaii, HI
Wasatch Naturists Travel Club South Salt Lake City, UT
By Kay Nauta

Let's get to know our AANR-West clubs! Below are ten fun questions to answer. How many can you get correct? (Answers below)
Name the two AANR-West travel clubs located in New Mexico.
Name AANR-West club whose on-site, Bare Buns Café offers a down-home country meal every Saturday night?
Mira Vista resort, located in Tucson, AZ was once a dude ranch in the 1930s. What was the name of the guest ranch?
What AANR-West resort is hosting the Bare Booty 5K Run/Walk on September 24, 2023?
The Western Nudist Research Library is located on the grounds of which AANR-West resort?
What AANR-West resort, located in Wilton, CA was named "Rawhide Ranch" from the early 1970s until 1991?
What Denver, Colorado-based travel club is the newest AANR-West member?
Which AANR-West club would you join to enjoy an au naturel hike in Utah's, Snow Canyon?
Which AANR-West resort overlooks the Santa Cruz Redwoods?
What AANR-West resort, located in the Colorado foothills was established in 1935?
Answers
SunTree Travel Club in Las Cruces, NM, and Roadrunner Naturists in Albuquerque, NM
Shangri La Ranch in New River, AZ
Saguaro Vista Guest Ranch
DeAnza Springs Resort in Jacumba Hot Springs, CA
Glen Eden Sun Club in Corona, CA
Laguna del Sol
Rocky Mountain Naturist Club
Southern Utah Naturist Society in St. George, Utah
Lupin Lodge located in Los Gatos, CA
Mountain Air Ranch, Littleton, CO
I hope you had fun learning a little bit more about our AANR-West resorts, clubs, and travel clubs. They each offer unique experiences, friendly environments, and individual climates to indulge anyone's preferences for clothing-optional recreation.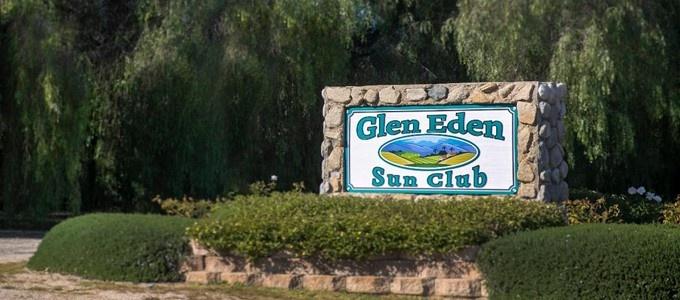 Article commemorating Glen Eden's 60th birthday.
Member owned; volunteer driven – for 60 years! By Jan D.

A visitor coming to Glen Eden for the first time is greeted by a member of our volunteer hospitality team who gives them a tour and introduction to our club. During the introduction they might hear, "Glen Eden is a member-owned club." OK, sounds good - but what does that really mean? It means a LOT! Today, as a thriving club with over 1,300 members, all proceeds go back into the club for the benefit of its members. We see the results of this in the form of continual, major improvements to our facilities as well as the expansion of our staff to include maintenance, construction and housekeeping crews, management, office staff and the recreation team.

Glen Eden was founded in 1963 and has been member-owned since its incorporation in 1966. However back in the '60s "member-owned" had a somewhat different connotation. The fledgling club had few members and hence very little in the way of income to fund its development. Visionary founder Ray Connett obtained funding to purchase the land we still occupy today. The club relied on him and an enthusiastic group of pioneer members to turn this former olive grove and sage brush chaparral into a facility the members could enjoy. So back then "member-owned" also meant member- BUILT. Anyone who knew anything about construction pitched in to build the first structures – the Hut was the first building. It has served many purposes over the years, including Teen Hut, and is now the home of the Western Nudist Research Library (WNRL). Pitching in almost went beyond "volunteering". Bill Leutbecher recalls, "back in the '60s single men were told they HAD to work two hours before being allowed to participate in nudist activities, and I did because I loved being here." Joanne Brown, in her interview with Dave Jones, remembered it too: "we worked two hours every time we came to GE. Men and women. I've painted more bathrooms around here than you could shake a stick at! Everybody wanted to do it. They wanted to give back because, to them, this was their other home, a special place." Richard Frank recalled how he did his part when he was in his early 20s: "I was young so I was the gofer. They were building the Eden West restrooms and had me go-fer this and go-fer that."

In 1966 the Connetts applied to the State of California for incorporation and the Glen Eden Corporation was born. In doing so the Connetts gifted the club to its members for posterity, in exchange for the right to live out their days at Glen Eden.

Ray Connett, upon incorporation of Glen Eden in early 1966:

"What this means, briefly, is that we have finally kept our word, achieved our goal, of establishing a corporation which can own Glen Eden for all time so that no private owner, or even a clique of the members, can ever profit from its sale. Glen Eden will go on forever, or at least as long as there are members with sufficient interest and initiative to keep the club active and solvent."

Fundraisers
One of the earliest fundraisers was for the first two tennis courts. The tennis players had to raise $1,000 to start construction. Those who loaned $100 got free membership in lieu of interest as long as they left their money in the tennis fund.

Another early fundraiser was the brick wall in the café. A donation got your name on a brick. Al Sandoval, who was a sign painter, painted the central graphic and some of the bricks. He also painted a large sign that Ray Connett wheeled out to De Palma Road.
First Glen Eden sign, painted by Al Sandoval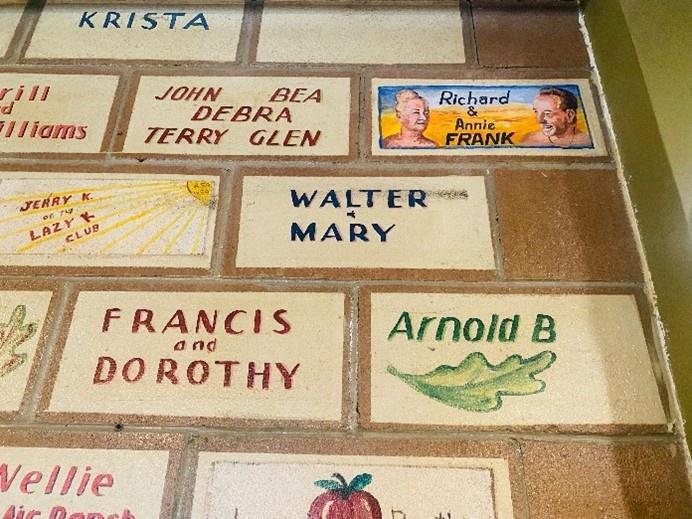 Bricks from this '60's fundraiser and Elen's recent addition for Richard and Ann Frank
Walls and Trails
Some of the most lasting reminders of volunteerism in those early days are the incredible dry stone rock walls built by "Rock John" Petrosky, assisted by Vernon Jordan. Art Bell recalls: "Rock John assembled the rocks like a giant jigsaw puzzle, matching shapes and spending hours seeking out just the right rock for a particular spot." You can see examples of his walls at the north end of the volleyball court, around the upper lawn and outdoor pools, and also the waterfall behind the café. The extensive network of hiking trails is another volunteer-led project from the early years that survives today. Virgil Hemphill carved the trail to the Chapel, Rock John, Verne and others built the trails over the hill on the west side of Glen Eden, and Byron "Scotty" Scott and Bill Husson expanded and maintained them. Their work was continued by Scotty's son, Pete Scott, and in recent years has been continued by an enthusiastic team led by John Nelson.
Chapel monument with Rock John's dry-stone wall visible in the upper right corner)
Volunteers Roll Up Their Sleeves
One tradition that has remained through the years is the annual spring clean-up day. Although it's no longer a mandatory work requirement, many members pitch in to pull weeds or trim bushes around the main recreation area, the Chapel, Labyrinth, Oak Grove meditation area, their sites, and beyond. There was certainly no shortage of volunteers when the Holy fire threatened GE in 2019 and shortly afterward the club was slammed by the fire-caused debris flows of the 2019-2020 rainy season. Just about everyone who could wield a shovel or drive a tractor showed up, clearing away thick mud that came up to their knees. Disastrous though it was, it really brought the club together. This was swiftly followed by the Covid epidemic and it is surely a testament to the strength of GE that the club not only survived those tests but has thrived ever since.

Today's Volunteers
This spirit of volunteerism is woven into the fabric of Glen Eden. Certainly, it's changed over the years. Today the club is fortunate to have some very qualified members from all walks of life volunteering to serve on the Board of Directors, and no one works harder than them! Volunteers today also run many aspects of the recreation program, while a professional construction crew, ably supervised by longtime Board Member Dale Hook, tackles projects such as the new pools and shower building, the creek flood prevention project, repairing the street and sewer line infrastructure in Eden West, and, most recently, replacing the concrete deck around the main pool and hot tub. Tennis, pickleball, volleyball, water volleyball, yoga & wellness, Zumba®, the Artists Studio, Naked Needle Gang, the WNRL, the Love Me Two Times thrift store, the RC racetrack, the hiking trails – all are run by volunteers and most are self-funding or generate funds for the club.

Fundraising For Major Improvements
The Board encourages members to develop new activities and will usually support a well-thought-out proposal. Volunteer-led fundraisers for major projects are strongly encouraged and have been matched by club funds. In the early '80s tennis players raised more than $25,000 towards the construction of tennis courts 3 & 4. A member, Alan Ells, was a concrete contractor and donated his services to build them. Jim Ling did the electrical work for the lights. Then in the early 2000s, a new generation of tennis players raised funds toward courts 5 & 6, also matched by the club. In 2005 Richard Moore donated $10,000 worth of sports equipment for the gym. Most recently the water volleyball group raised funds toward the lights and BBQ area for the new pools and the pickleball group is in the process of collecting donations for the two additional courts scheduled for construction this year. The Love Me Two Times thrift store has helped fund countless projects through donations generated from store sales.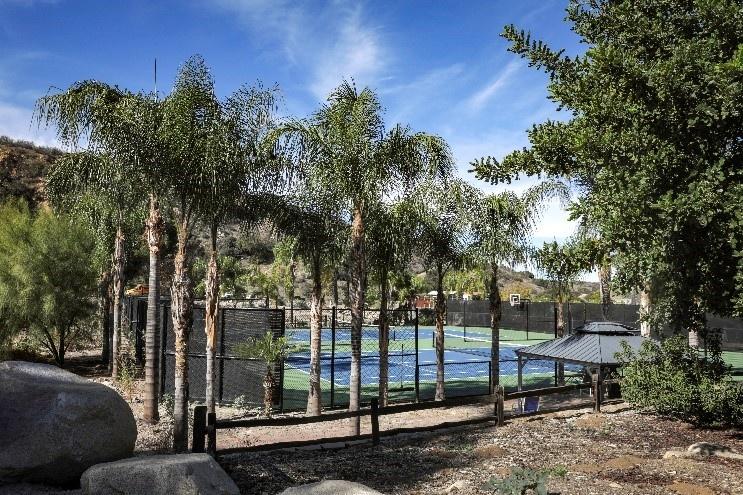 The new pool area includes a conversation pool.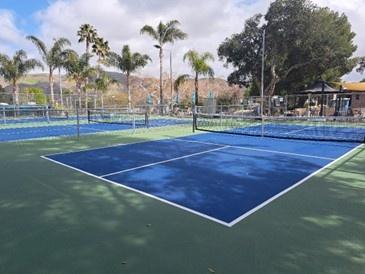 This spirit of member involvement took on another facet when members made sizable donations from their estates. Bequests from Dean Hendrickson, Mickie Coale and Al Sandoval have helped fund projects large and small, including the children's playground, tennis court and landscape renovations and the new pools.
Glen Eden officially celebrates its 60th birthday on July 8th and it's bound to be a fun weekend! In doing so, we reflect on all that volunteers past and present have achieved and thank them for creating the thriving club we enjoy today. Ray and Mildred Connett would indeed be proud to see how far their legacy has come.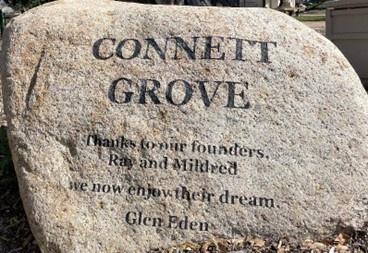 Quotes from pioneer members were taken from a series of interviews conducted by Dave Jones and preserved by the WNRL.

Thanks to Mark Pavelchak and Dale Hook for their contributions and help with the research and development of this article.

To Members past and present thank you for your contribution, dedication, and friendship.

AANR West Club Event Calendars